ROCKING HORSE WORKSHOP

Well, this is what we started with! Several pieces of wood, of different shapes! There were 4 leg shapes, 1 head shape, 2 rocker shapes, and a body. Plus some extras to pad out the horse shape.
We stuck the various shapes together, and actually came up with a horse shape - a bit angular, but never the less a horse!

While it dried, I put together the rocker. This was rubbed down and varnished twice.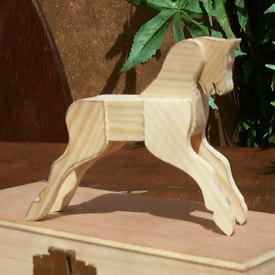 Here was decision time! Should I have a go at whittling the nice smooth shape of a rocking horse? Or should I just ask Steve of Burleigh Miniatures to use his sanding machine to make a nice rocking horse shape? Well the decision was hard! Here you are Steve!

90% of the group did this, although there were a couple who carved their own horses.

When Steve had finished, I sanded the horse into a nice smooth shape, with no ridges. I had decided to do a dapple rocking horse, so finish was not as important as the ones who had decided to do a wooden varnished finish.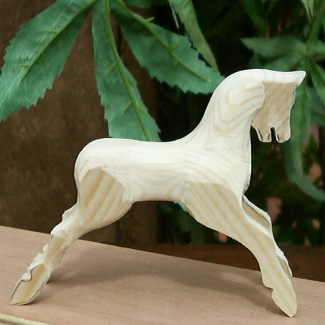 The horse was painted white, then rubbed down, and then spray painted with white gloss paint.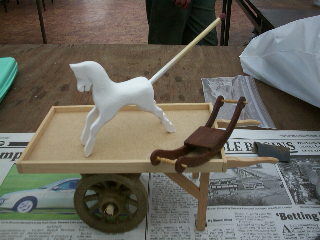 I dappled the horse with a stencil brush, and hopefully this has given it a nice finish.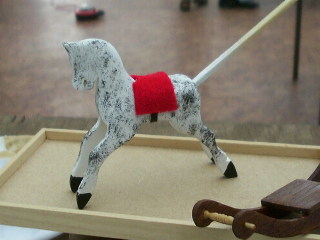 The reins and saddle came next, under the helpful instructions of Burleigh Miniatures.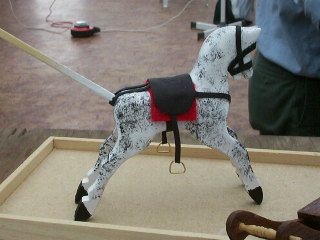 The horse was then ready for the mane and tail. I made a little hash of the mane, and had to be helped! Told you sewing was not really my scene! We had to sew the mane to a piece of "greaseproof" paper, then tear the paper away, and stick it to the horse!

With the tail in place, I could attach the horse to the rocker (after the feet had been carved away a little to fit the base). The mane and tail were "elastic banded" to help them fall in the right direction.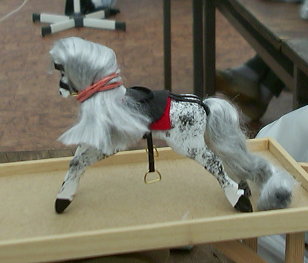 Well here is the completed item! I would recommend this workshop to anyone. Apologies for the photo!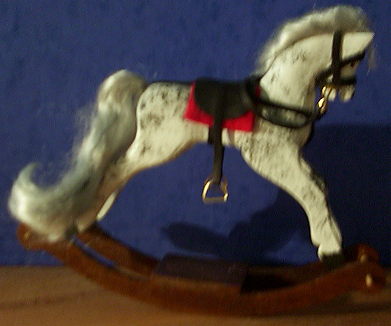 I will admit, if the workshop had been 2 days, I would have attempted carving myself, and rubbed down and varnished the rocker more, but time was against us.