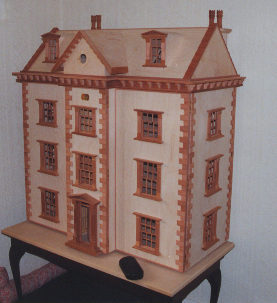 These houses are known as Kendrew houses. There are a number of different types. You can visit the Lectromatic site to see their stock. This house was bought in July 2000, and as you can see is quite large. That is a glasses case in front of the house!


Well, finally I have managed to get some pictures of one of my dolls houses for you to see!

This is actually my second dolls house. It is a three storey Georgian House made by Lectromatic of York. It is quite grande! I am actually in the (slow) process of bricking the front exterior walls, with brick slips. This is painfully slow, more so as I have to wait till Jess is not around in order to do the bricking! I plan to tile the roof with individual tiles as well. I must be mad.

I will place an up to date picture with the tiling so far, when I get chance!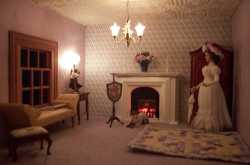 This is the bedroom, starting to take shape.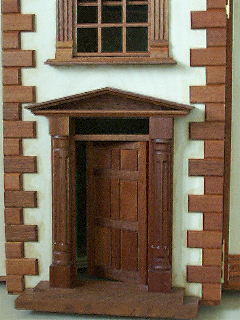 Well as promised, a picture of the tiling! Or should I say brick slipping! I am varnishing the woodwork, as I feel it is too nice to hide behind paint. This 'tiling' took about 3 hours to do, so as you can see, a long way to go yet!